Timber framed houses are the second most popular form of new home construction in England and Wales and as the UK Timber Frame Association points out, it is already the number one method in Scotland and is the fastest growing build method in the UK.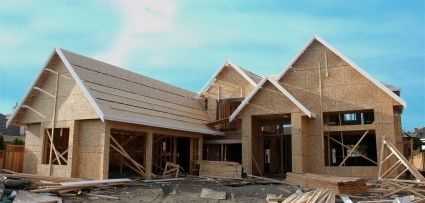 The reasons why timber frame is gathering momentum could appeal to you for the construction of your self build home.


There have been misconceptions about timber framed houses in the UK and a resistance to deviate from our beloved masonry construction has, in the past, suppressed a system that thrives in the rest of the world. In fact, according to the Timber Frame Association, 70% of people in the developed world live in timber frame housing.
Types of Timber Framed Houses
Timber frame construction refers to a range of systems from traditional post and beam to stick built, open and closed panel systems, hybrid systems and Structural Insulated Panels (SIPs).
The traditional methods, although expensive, are still popular and if you watch Grand Designs then you will no doubt have seen a passionate soul taking on a Green Oak construction inevitably resulting in a stunning home.
In the UK, the majority of timber framed houses are constructed using open and closed panel systems.
Open panel timber frames comprise of a softwood stud frame backed with a layer of timber sheet material. The panels are manufactured in accordance with the house design, delivered to site and fixed together to provide the structural frame of the house.
Closed panels are similar in construction to open panels but factory prefabrication goes one step further with insulation and vapour barriers incorporated and plasterboard fixed to 'close' the panel. Service conduits, socket points, windows and doors can all be factory fitted further reducing the portion of on site construction.

The Construction Process
Preparatory Works
When constructing a timber framed home, excavation and foundation installation take place as with masonry construction and footings are normally brought up above ground to damp course level using masonry materials. Due to the lighter structural frame, it is usually possible to have a lower foundation specification.
Scaffold is erected around the perimeter of the house and, depending on panel sizes and weights, it may be necessary to hire a crane or lifting equipment.
Superstructure
Prefabricated panels manufactured in accordance with the house design are delivered to site and erected forming the inner skin of the house – similar to the blockwork skin in masonry construction. This is the structural load-bearing element of the house and supports floors, the roof and internal loads.
Upper floors are constructed as the framing progresses using solid timber joists or composite I joists and decking.
The roof structure follows on using traditional cut timber construction, roof trusses or a panel system. The application of a roofing membrane and windows and doors can achieve a watertight shell within a matter of days.
Finishes
Following the first fix of plumbing and electrics, the panels are filled with insulation. Breather paper is fixed to the outside, a vapour check barrier to the inside and the walls can then be plaster boarded. If closed boards have been used, this will all have been factory fitted and panels are simply fixed in place before the internal joints are taped and skimmed.
External finishes can begin as soon as this timber shell is complete. Any facing materials can be used including brick, stone and timber.
Timber frame manufacturers normally supply and fix the frames and frequently offer a range of services including full management of the build including all follow-on trades. Many self-builders opt to save money by taking on the project management and the management of follow on trades themselves.
Let's have a look at some of advantages of building timber framed houses.
Advantages
Many advantages of timber frame construction are a result of the increase in the portion of off site construction. Controlled factory prefabrication allows:
Design flexibility.
Less disruption to neighbours of the site.
High levels of engineering and production control.
Greater efficiency of manufacture.
High standard of quality and accuracy.
More accurate cost forecasts are possible.
Fast and simple site construction. A house can be framed, roofed and made water-tight within a matter of days.
Reduced labour costs. Especially site specific skilled labour.
The weather has less of an effect on construction progress.
Better health and safety (UK Timber Frame Association).
Reduced wastage.
Other Advantages include:
Timber frame is a dry method of construction.
Gerry McCaughey of Century Homes states that the high thermal performance insulation in timber frame structure means that heating costs are much cheaper than in masonry homes and that they are warmer in the winter and cooler in the summer.
Following erection of the timber shell, external facing and internal work can proceed independently.
The Building Research Establishment (BRE) reports that modern timber frame house construction produces near zero carbon emissions.
The National House Building Council (NHBC) claims that records show fewer problems with timber framed houses than with masonry construction.
Wood grows naturally, removing harmful Carbon Dioxide from the atmosphere and releasing Oxygen as it does. The UK Timber Frame Association says it uses minimal energy to fell, mill, transport and construct in timber compared to using concrete blocks and steel which use a lot of energy and create pollution. They maintain that timber frame is the most environmentally friendly way to build.
Timber frame is gaining momentum and acceptance in the industry.
Meets all regulations on sound insulation.
Compatible with all external finishes.
Foundation specification can be reduced due to the light weight frame.
The UK Timber Frame Association reports 30% faster build times than brick and block.
More Information
The Timber Research and Development Association (TRADA) is in their words "is an international membership organisation dedicated to inspiring and informing best practice design, specification and use of wood in the built environment and related fields." There's some very interesting information on their website and some superbly inspiring case study projects.
It is essential that any timber used in house construction is sourced from properly managed suppliers who are FSC certified. Visit their site to find out what they do.
Timber framed houses offer a lot of advantages and if the timber is sourced from a fast growing, properly managed source then it is a very environmentally friendly material.
Have a look through the rest of our house construction methods section to compare it with the alternatives.
Return to House Construction Methods
Return to Home Page from Timber Framed Houses