Steel frame houses are built using a modern method of construction (MMC) with an impressive strength to weight ratio and great design flexibility.
The system may be of particular interest if you want to push the boundaries of architectural design with your self build home… Gherkin anyone?
Towards the end of the 19th century, steel frame construction revolutionised the skylines of New York, Chicago and the world by outperforming the load-bearing constraints of traditional masonry construction and allowing buildings to advance higher than ever before.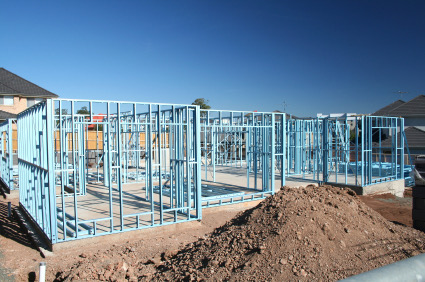 The modern steel industry has been making in-roads to residential construction and material price reductions in the 1960's made it a more affordable option.
With the increased emphasis on modern methods of construction and the benefits of off site manufacture, the industry is developing its systems, in particular with light steel (cold formed) systems and is well placed to capitalise on its strengths.
Steel Frame Houses – The Construction Process
The frame design is developed by engineers in line with your architect's design and the various elements are fabricated off site in a controlled factory environment.
It is common these days for the bulk of the steelwork in steel frame houses to be light steel although the frame will usually contain both hot rolled and light steel elements.
Lengths of light steel are used to frame the house in much the same way as timber studs in timber frame houses and light steel is also used for floor joists, and the tracks, studs and rails for internal partition construction.
It is possible to prefabricate composite panels incorporating insulation, ties for cladding, window frames, door frames, and internal finishes before they leave the manufacturer.
Hot rolled elements come in a variety of cross sections from square, round and angle sections to the familiar 'H' and 'I' sections of universal columns and beams. If your design is particularly large, tall, or structurally complex, more of these will be required.
The completed frame is delivered to site and with ground works and concrete foundations already in place, erection of the frame can progress very quickly. Most connections are simply bolted or screwed and a straightforward frame can be erected in day. Access equipment and a crane will be required to offload, position and fix the various pieces.
Roofing and external facing can get started as soon as the frame is finished.
Floors can be decked with timber sheets screwed to steel joists although it is also common for metal decking to be used which acts as a permanent form for an in-situ concrete floor. Internal work can progress as soon as the building is watertight and walls are faced with plasterboard as with any other build system.
Advantages
Quick erection on site due to off site fabrication.
Relatively lightweight.
High strength to weight ratio.
Good design flexibility.
Durable.
Long open spans are achievable.
Steel is 100% recyclable and can be recycled indefinitely.
The Waste Resource Action Programme (WRAP) suggests that around 60% of structural steel content sourced in the UK is recycled.
Steel doesn't warp, split or crack.
Lightweight steel is light and easy to handle.
All the usual benefits of MMC and off site fabrication.
 Disadvantages
Steel corrodes. However galvanising steel during manufacture and maintaining a cavity in external walls reduces the impact.
Large amounts of energy are required to manufacture steel requiring the combustion of fossil fuels and resulting in the release of CO2.
Steel softens in high temperatures. Fire protection is necessary.
Follow this link to compare steel frame houses to other house construction methods.
Return to House Construction Methods
Return to Home Page from Steel Frame Houses