Every project must have a beginning and an end. Project completion is where you tie up all those loose ends and finally get chance to take a deep breath and enjoy the culmination of all that planning, expectation and hard work.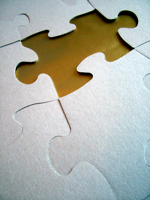 Project completion means completion!
Don't relax just yet though! It is easy when the end is in sight to get a bit lax and think,
"oh never mind, I'll do that later on".
Stay disciplined and get everything neatly concluded.
When you move into your brand new home it's amazing how noticeable the small things, that you didn't quite finish, become. Get them done and relax properly.
Paperwork
There are a few administrative issues to complete as well:
Arrange a Building Control final inspection and completion certificate.
Arrange a structural warranty completion inspection and certificate to initiate their warranty cover.
Notify your insurance providers of completion and convert your policy to buildings and contents cover.
Settle final accounts with your builders, tradesmen and suppliers.
And if you're feeling grateful, how about a 'topping out' party or barbeque for everyone who contributed.
When it's all done, that's it, that's all. Nothing left to do but move in, relax and enjoy!
Before you get the itch that is……. The itch to do it all again!
Maybe it's worth having a project review just in case.
Navigate to another element of the project management process:
PLAN – IMPLEMENT – MONITOR – CONTROL – COMPLETE – REVIEW
or
Return to Construction Project Management
Return to Home Page from Project Completion