Insulated concrete forms (ICFs) are a modern method of construction that has actually been around for over 50 years and is used extensively in Germany and North America.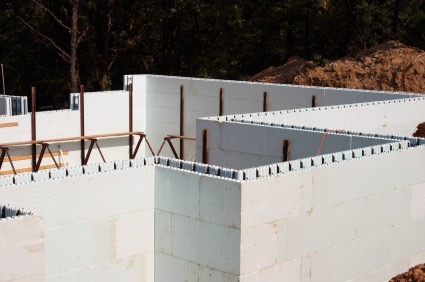 Their popularity has grown in the in the UK in recent years and they offer a number of advantages over other methods of house construction.
If you want to get 'hands on' with the construction of your self build structure then this system could be of particular interest.
Insulated concrete forms use the principles of in-situ concrete construction where wet concrete is poured into formwork (moulds) that are struck (removed) once the concrete has set.
With insulated concrete forms however, the forms are made of insulating foam (usually expanded polystyrene EPS), which remains in place once the concrete has gone off, becoming part of the structure and providing thermal insulation to the building.
Insulated Concrete Forms – The Construction Process
Preparatory Works
Excavation and foundations are laid as with any form of house construction. With insulated concrete forms you may choose to incorporate a basement as they offer a good solution for basement construction.
Superstructure
There are a number of systems available but usually forms are lightweight hollow units that are dispatched in accordance with the house design. They are dry stacked together, much like Lego blocks, to provide a form for the walls of the house. Reinforcement is added and concrete is pumped into the voids. This forms the structural inner skin of the house. The whole process is fast and doesn't require any specialist skills. All the main ICF manufacturers offer training in the installation of the system.
Most flooring systems are compatible with ICFs including timber joists and I beams although many people opt for a concrete system, either decked and cast in situ or precast. Most roof construction methods are compatible as well.
As with most of the modern methods of construction, a watertight shell can be achieved in a matter of days, thereby reducing the impact of adverse weather and allowing follow on trades to start work on the interior and exterior of the building in parallel.
Finishes
The building can be faced with any of the usual facing or cladding materials and there are also brick slip systems available to give the look with a fraction of the hassle.
Service conduits can be laid in the forms before concrete is poured and chases can easily be cut into the internal foam face of the building shell and covered by plasterboard, which can be dot and dab or screw fixed.
Let's have a look at the advantages of using insulated concrete forms.
Advantages
As a modern method of construction utilising prefabrication, insulated concrete forms offer several benefits.
Less disruption to neighbours of the site.
Fast and simple site construction. A house can be erected, roofed and made watertight within a matter of days.
The Insulating Concrete Formwork Association states that forms can be available within 3 weeks and concrete within 48 hours.
Reduced labour costs. Especially site specific skilled labour.
The weather has less of an effect on construction progress.
Better health and safety – light materials, less time working at height and on site.
Reduced wastage.
Other Advantages
Flexible design options including curves, arches and different angles.
Compatible with all external and internal finishes.
The Basement Information Centre has approved ICFs as walling system for domestic basements.
Compatible with other systems for floors and roofs. (ICFA)
Construction can be completed DIY – All suppliers offer training.
Services can easily be run inside the forms or chased into the internal foam face.
Following erection of the watertight shell, external facing and internal work can proceed independently.
Construction can continue in most weather conditions including rain and frost.
The Insulating Concrete Formwork Association states that ICFs outperform current building regulations and with achievable U values of 0,11w/m2k.
Excellent thermal performance. Good insulation coupled with a high thermal mass keeps the building warm in winter and cool in summer, creating a comfortable environment and saving energy.
Good sound insulation.
A high level of air tightness is achieved.
Good fire resistance.
The structure is strong, durable and long lasting.
Some manufacturers offer forms made from 100% recycled plastics.
Materials used are 100% recyclable. (ICFA)
More Information
There are a number of companies operating in the UK who produce insulated concrete forms and the Insulating Concrete Formwork Association (ICFA) represents them.
Suppliers of ICFs offer a range of services from construction training, design, supply and installation, financial and plot search services.
You may have seen insulating concrete forms crop up on Grand Designs with The Underground House in Cheltenham using them to make the most of underground space and the Shell House in Devon – a stunning home and a lesson in how not to project manage your self build.
As a house construction system, insulated concrete forms offer a unique system with some unique benefits and again it could be the right choice depending on the requirements of your project. Have a look through the rest of the section and compare it to the other house construction methods available.
Return to House Construction Methods
Return to the Home Page from Insulated Concrete Forms